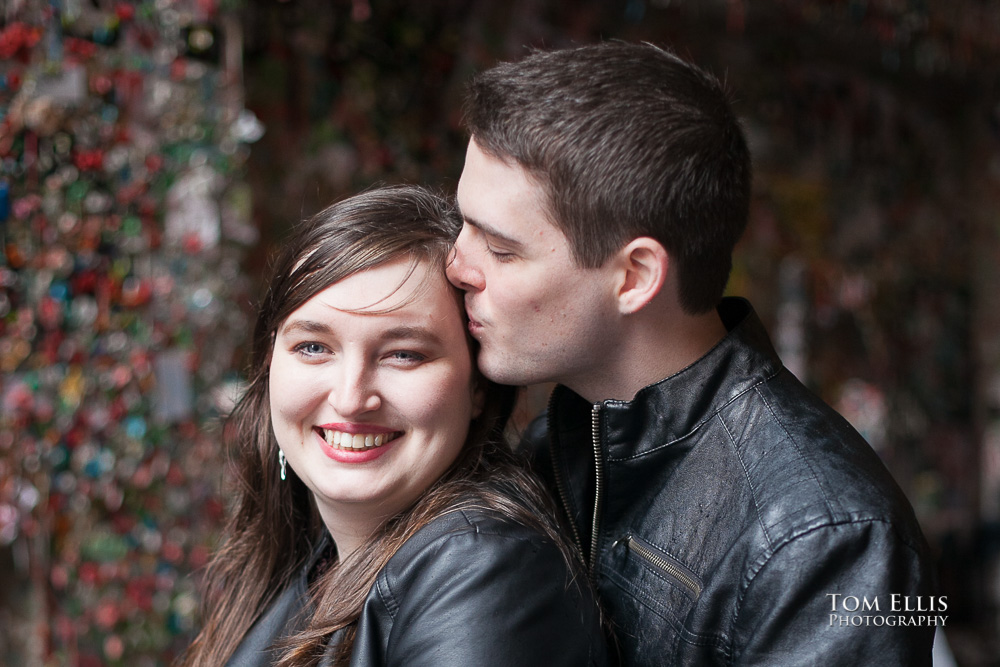 Engagement photo session at Pike Place Market and the Waterfront
Time for more engagement photos, this time from my session with Kate and Evan.  We met up a few weeks ago on a rather wet Sunday afternoon at the Pike Place Market.  When I say "rather wet" I am understating things a bit, because it was pouring at the beginning of our session.  Fortunately as our session progressed things improved at least a little bit and we were able to take a few photos when we were not in a covered space without need for an umbrella.  But most of the time it was darn wet!
We began our session in the market itself, where we could stay under cover.  Of course, being Pike Place Market, we were sharing the space with hundreds of other people.  But that's OK, we had fun exploring different parts of the market as we took photos.
Next we moved into Post Alley, where we could continue to mostly hide from the rain, which was not yet showing much sign of relenting.  The nice thing about an overcast day is that it creates wonderful soft lighting if you know where to look for it and how to use it.
After discussing our options we decided to walk to the waterfront.  The consensus was that even if the rain continued we could still get some good photos while Kate and Evan hid under an umbrella.  And after all, we are in Seattle and well known to experience a little wet weather from time to time!  😉
But as we reached the waterfront the rain almost completely stopped, and our umbrellas were no longer necessary.  We got photos in front of the Great Wheel, and others with the backdrop of Puget Sound and some ferries.  There are several other spots in the waterfront area that I like to explore whenever I take photos there, and we hit most of those as well; you'll see photos from some of those locations below.
After pretty thoroughly working the waterfront and nearby area we made our way back to the Market for a few more photos, and then called it a day.  I have placed a small selection from the session below, I hope that you enjoy them.