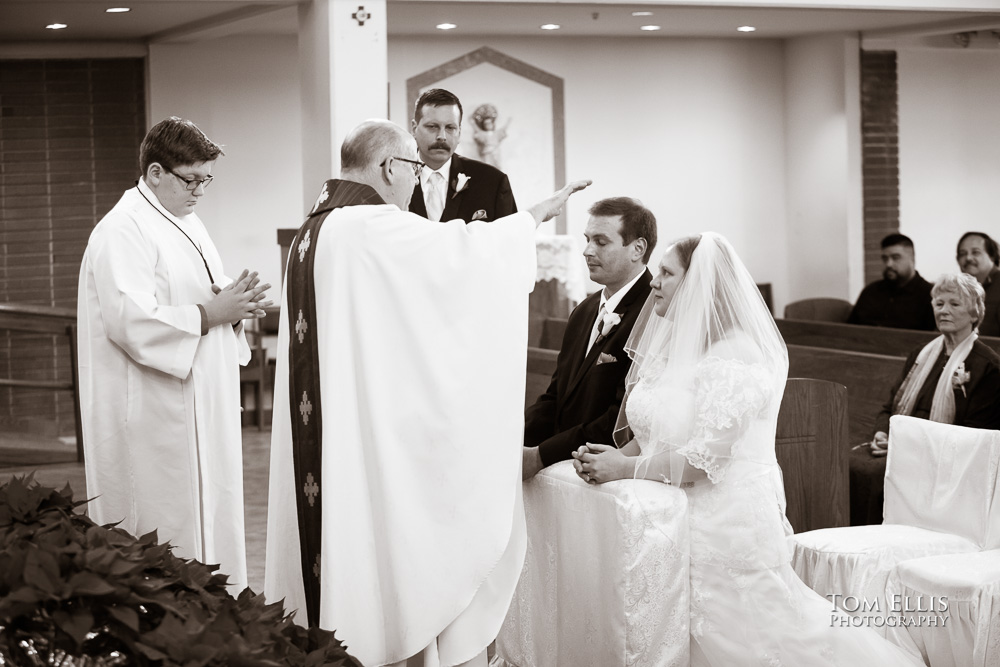 Wedding of Debra and Gary at St. Philomena Catholic Church
Debra Johnson and Gary Hudak were married on January 21 at St. Philomena Catholic Church in Des Moines.  Here is a brief run-down of the events of the day.
Getting ready
I met Debra at her house before the wedding to get some photos as she finished getting dressed before the wedding.  Though the weather forecast was for cloudy skies and rain, apparently whoever was in charge of the actual weather took no notice and we had sunny skies!  Debra's parents Paul and Carol, as well as sister (and Maid of Honor) Laura were there as well, helping Debra get ready.  I got some photos of some of the dressing process, and found a nice spot near the bedroom window with very good lighting where I got a few photos of Debra once she was ready to go.  She looked amazing, and it shows in the photos!  Once everyone was ready, we headed for the church.
The ceremony at St. Philomena
By the time we arrived at St. Philomena many of the guests were already inside the church.  Debra and Laura snuck into the back of the church, and hid out while the remainder of the guests arrived and were seated.
Once everyone was in place, the ceremony began.  This was a full Mass; for the bride and groom this means that they get to spend a lot more time sitting down than at many wedding ceremonies! The celebrant, Father Steve Woodward, showed off a nice sense of humor as he conducted a very nice ceremony.  I had been given permission to move about freely during the ceremony (not the case at many churches) and was able to change my position in the church to capture the ceremony from a variety of viewpoints.
The ceremony went perfectly and we soon had a newly-married couple!
The reception at Des Moines Activity Center
Once the ceremony had concluded the guests were all asked to head to the reception site, and Debra and Gary signed all the legal documents.  We then moved back into the chapel for posed photos of Debra and Gary with their wedding party and family, made considerably easier than usual because the Maid of Honor was Debra's sister Laura, and the Best Man was Gary's brother Tom.
As soon as photos were completed everyone headed straight to the reception, which was held at the Des Moines Activity Center.  Very nice building, with a small courtyard in the back that worked quite nicely for some photos.  I'd love to see it during the spring and summer, I'll bet the surrounding grounds will be beautiful once the flowers begin to bloom.
A great lunch buffet was served, followed by wedding cake.  Gary and Debra spent the reception greeting their guests, and everyone looked like they had a great time!