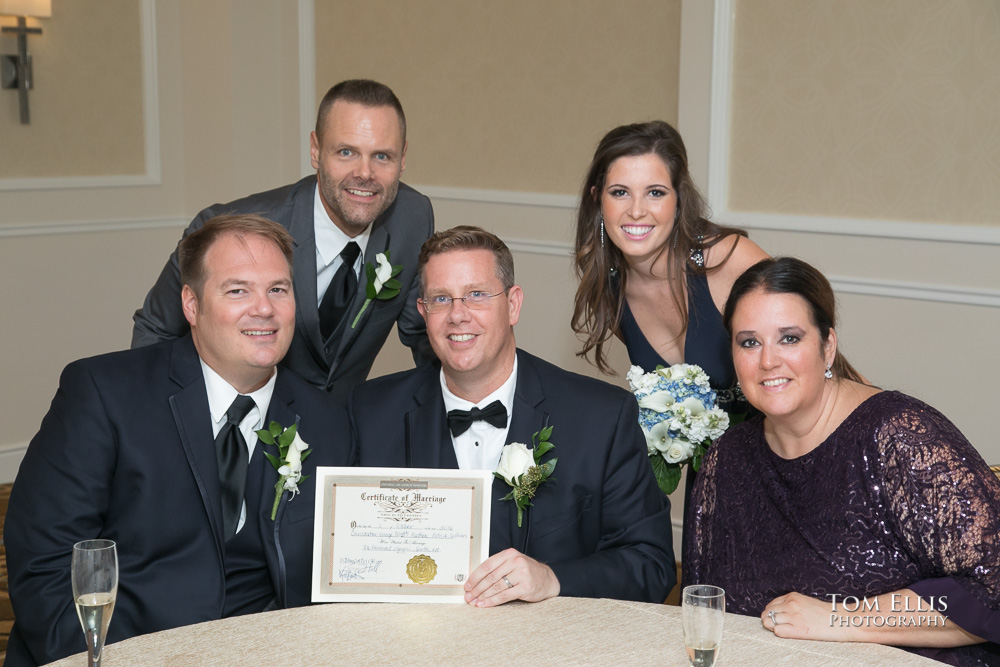 Chris & Matthew's wedding at the Fairmont Olympic
Last Saturday, on October 8, 2016 Chris Doughty and Matthew Sullivan were married at the Fairmont Olympic Hotel.  As I listened to their family and friends the day of the wedding, I think the general feeling can be summed as "It's about time!".
Matthew and Chris first met way back in 1998, after being introduced through a mutual friend.  It took a few years for them to figure it out and start dating seriously, but after dating for a year they decided to move in together.  Three years later they made the big move of buying a house together in Maple Valley, where they have happily lived together with their four kitties Gus, Webster, Oscar, and Annabelle.
Chris and Matthew are experienced travelers, and have done extensive traveling around the world, visiting 30+ countries together.  Wow!  I am extremely jealous of their travel record, but plan to ask them for some travel advice the next time my wife and I are planning a trip.
In the planning leading up to the wedding day, we had discussed the possibility of going off-site for some outdoor photos around Seattle.  But the wedding day weather was not cooperative, and the decision was made to just stick to the hotel for photos.  However, the Fairmont is located just a block from the Seattle Library, a rather cool building architecturally that offers some pretty nice places for photos in a protected setting.  So I suggested that we make the short trip down the street for a min photo session, and Chris and Matthew were agreeable.  We were even able to get a ride in one of the Fairmont's cars!  You'll see some of the photos we took there in the gallery below.
Once back at the hotel we met up with the wedding party for photos.  The wedding party consisted of the following people (info unabashedly stolen from Matthew and Chris' Knot wedding page)
Keith Bennett – Groomsman
Chris has known Keith for nearly 15 years. They enjoy playing golf and going to UW football and Seahawks games together.
Yvonne Malina – Groomswoman
Chris has known Yvonne for nearly 22 years. She has consistently been by his side for every special event along the way!
Ben Doughty – Groomsman
Ben is Chris's brother. Ben has always been there for Chris whenever needed.
Jennifer Bourke – Groomswoman
Jennifer is Chris's sister. We have enjoyed traveling and spending as much time as we can with her and her two boys!
Paris Hull – Groomswoman
Paris is Matthew's niece. Paris has grown into a very lovely woman and is extremely talented!
Chandler Hull – Groomsman
Chandler is Matthew's nephew. We have watched him grow into an bright young man who has a strong future ahead of him!
Finally it was time for the wedding.  The guests were all seated and the processional began, with Chris and Matthew each accompanying their respective mothers down the aisle.  The ceremony went perfectly, and a short time later Matthew and Chris were officially newlyweds and it was time for the party to begin!  Everyone moved to another room at the hotel for cocktail hour while the ceremony room was turned for the reception proper, and Chris, Matthew and their designated witnesses dealt with the paperwork to make the wedding legal.
The reception was phenomenal!  Once dinner was finished, the DJ fired up the music and the dancing began.  This was a good dancing group, and the dance floor was busy for the rest of the evening.  Chris in particular is clearly a hard-core dancer, and rarely left the floor until it was finally time for everyone to say goodbye and go home.
Following is a selection of photos from the day.  More photos than I usually include with a wedding, but I had a really hard time even keeping the number this small.  I hope you like the photos, and please leave your comments below.