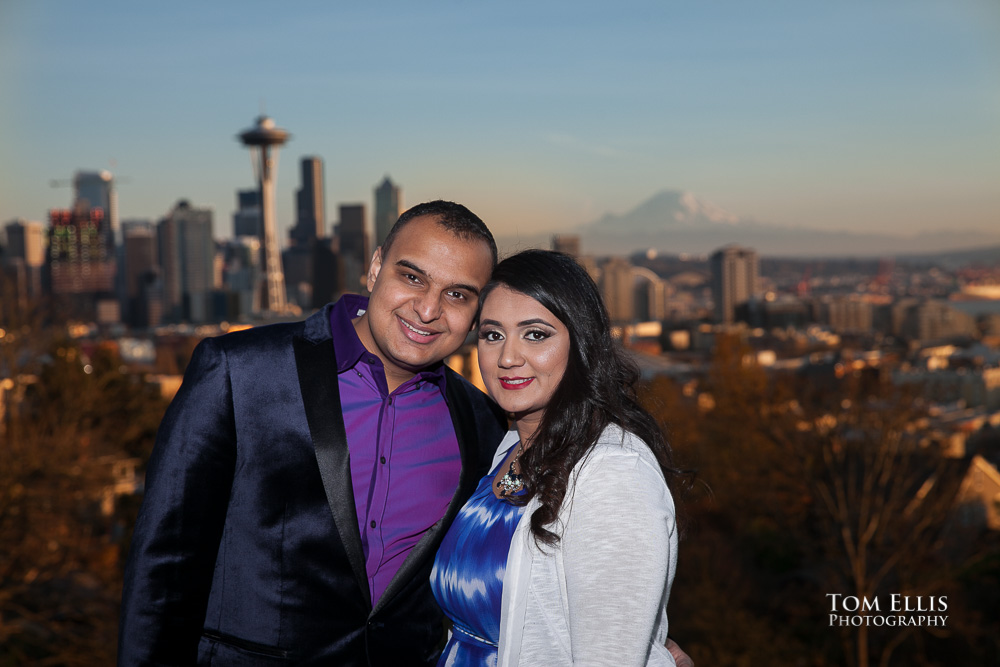 Seattle engagement photos – Gasworks Park & Kerry Park
A couple of weeks ago I met up with Vanita and Aman for their engagement photo session, on a beautiful sunny Saturday afternoon.  It was even fairly warm, making it a great day for taking photos.
We started out at Gasworks Park, one of my favorite Seattle locations for engagement photos.  Vanita and Aman did a clothes change here, and we did a pretty thorough job of exploring the park and various photo options.  Then we moved on to Fremont, where we got a few photos with the famous Fremont Troll under the Aurora Bridge.  As an aside, I was amazed at the number of other people who were also visiting the Troll that day, at least a couple dozen in the short time we were there.
Next we headed to Queen Ann Hill to hit a couple more of my favorite photo spots.  First we visited Parsons Garden, where we did some photos in the garden area and also just across the street, where there is a beautiful lookout over Magnolia to the Olympic Peninsula.
Finally we moved down the street to Kerry Park, which is the most photographed location in Seattle.  At this point it was closing in on 4PM, and the sun was going to be setting soon.  There were easily 100+ other people there wanting to see and/or photograph the view, which made finding any space for our own photos somewhat tricky.  Fortunately I have learned that at most places, the person with the biggest camera "wins" in terms of others deferring and giving access, and that proved to (mostly) be the case here as well.  We got a lot of photos, and then it was time for one more clothes change and finishing with some nice sunset photos.
Here is a selection of photos from the day.  We ended up with well over 200 photos, but this will at least give you a feel for the shoot.