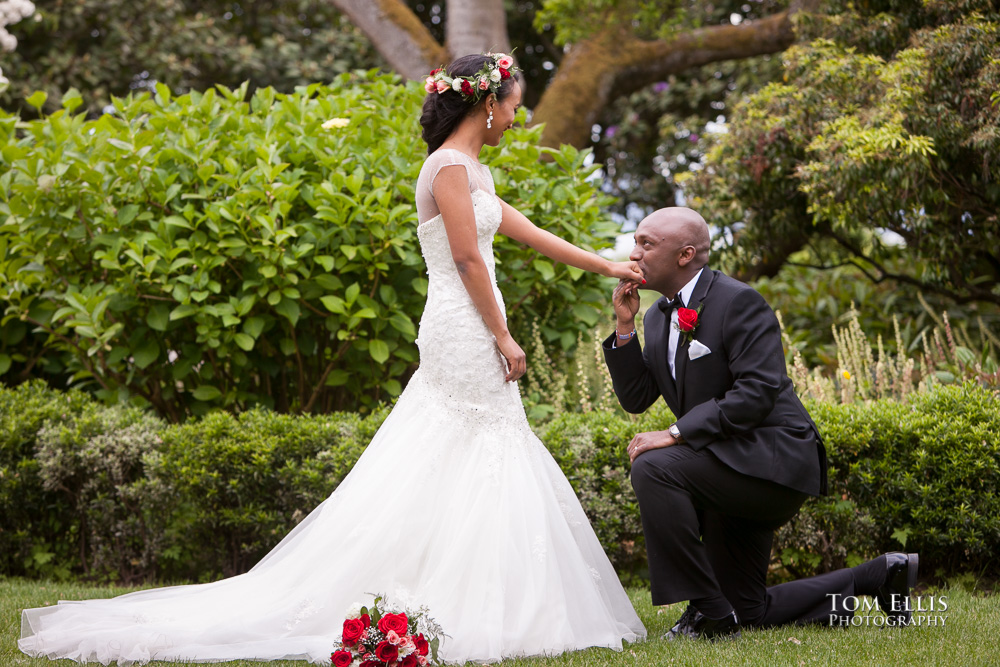 Seattle Wedding Portrait Session with Bezawit and Yonas
It has been awhile since I actually photographed this session, which took place way back on May 24.  It is actually part one of two sessions that I did with Bezawit and Yonas, and I had originally planned to combine the two sessions when I blogged about them.
However, after completing the second session just over a week ago I realized that I simply had far too many great photos from the two sessions to put them all onto one post.  So I will do one posting of the first session and a separate posting of the second session in a few days.
Now that we have started having weather that can be accurately described as "summer-like" it is kind of hard to remember just how miserable most of our spring weather was.  When I first scheduled this session with Yonas, we were quite concerned that we would not be able to find a decent day before he and Bezawit were scheduled to fly back to the East Coast to visit relatives.  We went ahead and scheduled a date, with then understanding that if the weather was too wet we'd cancel and reschedule.
Photos at Golden Gardens
We planned to meet at Golden Gardens on a Wednesday in the mid-afternoon, with the idea that we would also take photos at a couple of other Seattle parks over the space of a few hours.  Things got off to a slow start when traffic was unexpectedly bad, and Yonas and Bezawit did not arrive until more than 30 minutes after the planned start time.  The weather was cool and overcast, which is actually just what I wanted as a photographer; these kind of conditions are much more conducive to good photos than a bright sunny day, and also it meant that the number of people on the beach would be less than on a nice day.
Golden Gardens is a big park, and we spent well over an hour just walking and looking for good places for photos.  Sure enough, the cloudy skies kept most of the usual beach-crowd away, and we were able to take a crazy number of photos with no one showing up as an unintentional "photo bomber" in the background.
Kerry Park and Parsons Garden
Next stop was Kerry Park on Queen Ann Hill, easily the most popular location for photos in Seattle with its iconic views over Seattle Center and the Space Needle, with Mt Rainier in the background when the clouds cooperate.  Kerry Park is ALWAYS busy, if not truly crowded, and many times when I have been thereI have watched as tour busses will pull up an disgorge 50-80 people who eagerly rush to the viewpoints so they can all get photos of the city and/or themselves.  Fifteen minutes later they all climb back onto their bus, just before the next bus pulls up with its own load of tourists. To put it mildly, this can make taking good photos rather challenging!
But today there were only a few folks at the park, and the best photo spots were unoccupied.  Knowing that at any moment a tour bus could appear we quickly took a selection of photos, and then as the park continued to stay quiet we moved around a bit more to take advantage of some places that many days are simply unreachable due to the large number of park visitors.
Just down the street from Kerry Park is Parsons Garden, a very pretty little "pocket park" that is not known to many who do not either live nearby or who have discovered it by chance.  I wanted to get some photos with some nice foliage in the background and had not been able to do that so far, so I suggested that we stop there for a few quick photos before moving on to the final planned location.  As it turned out, we had some of the best photo conditions while at Parsons, with the sun peeking through the clouds several times letting me have some fun with backlighting Bezawit and Yoans, which makes for some good portraits.
Last Stop – Gas Works Park
Our final stop was at Gas Works Park.  Because of our late start (and my getting carried away a bit) we found that afternoon traffic was much worse than if we had left earlier, and getting from Parsons to Gas Works was not going to be as quick as it should have been.  We were in separate cars, and though Yonas had a map on his phone I suggested that they follow me so we could take some back streets and avoid the worst of the early rush hour traffic.
It took a bit, but we finally got to Gas Works.  We moved into the park and stopped at the old concrete arches that were once part of a trestle used to unload coal at the gasification plant; these arches are my favorite place at Gas Works for photos.
Following are some photos from the day.  They are completely random in order, so see if you can figure out at which location each was taken (pretty easy in most cases!).  Hope you like the photos, and that you will leave some comments!