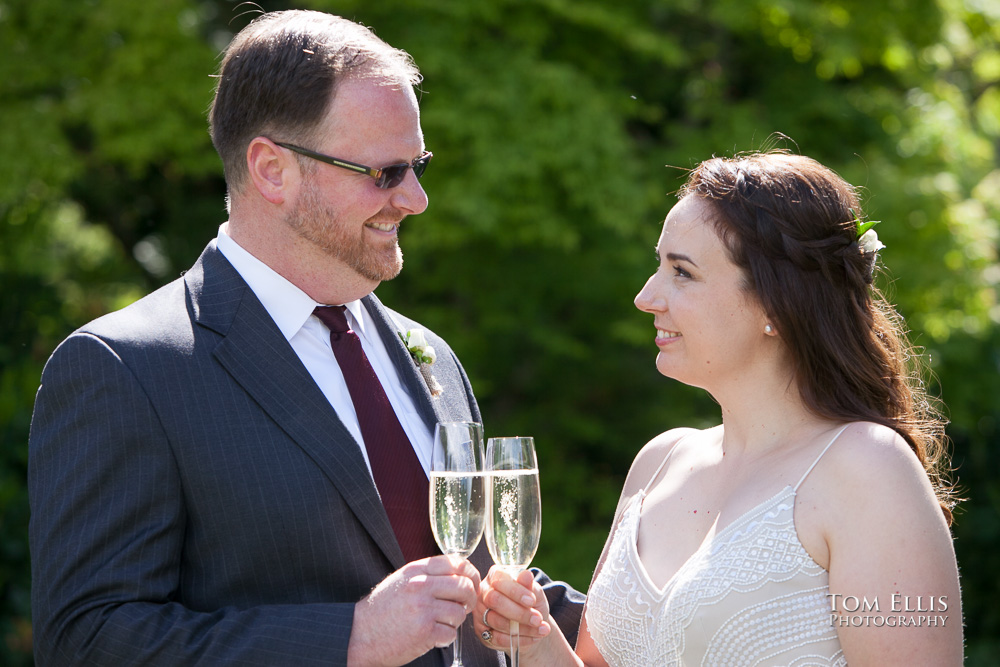 Elizabeth and Ted Elope at Willows Lodge
I have to admit that I feel a bit guilty that it has taken me so long to finally get a real blog posting up of this elopement wedding that took place at the Willows Lodge all the way back on June 1.  But I have been so busy trying to keep up with editing all of my weddings, engagement sessions and more that I'm afraid that my blog posts have suffered a bit.  I feel that it is much more important to get my clients photos edited and delivered than to worry about blogging the events, so late postings are the result.
I was contacted by Elizabeth about 6 weeks before the planned elopement date to see if I was able to shoot their wedding.  She and her fiance Ted live outside of San Francisco, but have roots in the Northwest, and had decided that they wanted to have a simple and private ceremony in the Seattle area rather than a large affair closer to home.  Fortunately they were planning on a midweek wedding date, and I had no trouble opening a spot on my schedule for them.
The wedding was held at the Willows Lodge in Woodinville, a really nice hotel that has several wonderful places for an outdoor wedding ceremony, as well as a variety of great spots for photos.  However, if you can remember just how horrendous the weather was almost all of last Spring, we had some real concerns that it would be too wet to have the ceremony outdoors.  The forecast was rather ambiguous, but seemed to show that on the planned date we were likely to have a pretty wet day.  We discussed alternate plans if the weather was uncooperative, and both Ted and Elizabeth said they were ready to do the ceremony outdoors under umbrellas if necessary – perfect attitude for a Spring wedding in the Seattle area!
The day looked pretty bleak early on, but as we got into the afternoon the rain stopped and it looked like we might luck out.  I arrived at Willows on the early side so I could scope out all the locations to see if anyplace was too wet to use, but was pleasantly surprised to find everything almost completely dry.
I met with Elizabeth in her room and we took a few photos, and discussed the planned timing for the ceremony.  Then everything was thrown a bit sideways.  The officiant, Kent Buttars, called to tell us he had unavoidably delayed and was still 45-60 minutes away from Willows.  Since the ceremony was supposed to start in ~5 minutes this meant some serious re-thinking about the order of events had to take place.
But it was really not that big a deal.  I told Elizabeth and Ted that we would just go ahead and take photos around the Willows grounds while we waited for the officiant.  So we spent the next 45 minutes exploring Willows, which has a lot of very cool places for photos.  The weather just kept getting better, and we had sunshine and blue skies for our little "photo walk".  Kent arrived and located us, and we headed for the area that Elizabeth and Ted had chosen for their ceremony, a wood gazebo on a corner of the grounds.
Here is a selection of photos from the day, I hope that you enjoy them!