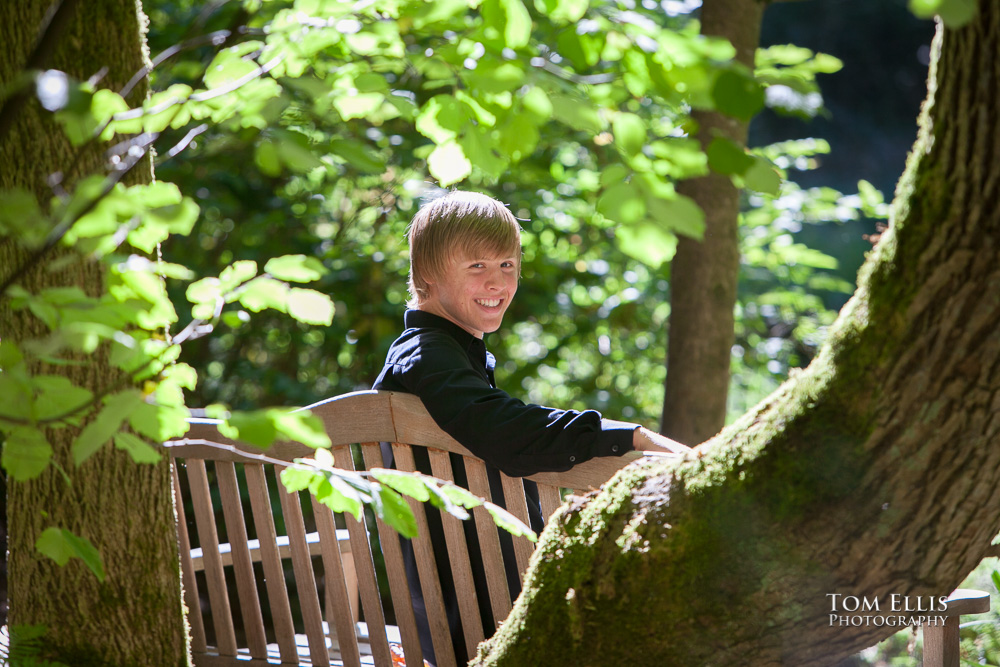 Colin's Senior Photo Session at the Bellevue Botanical Gardens
When I set up my senior photo session with Colin, it was already mid-September and school had been in session for almost three weeks.  Because we had to schedule his session on a school day I was a bit concerned that either the weather conditions or lighting would not be conducive to good photos.  As it turned out, I was worrying for no reason.  We had fantastic weather conditions, and were able to schedule our session for a Wednesday, when Colin's school has early release and the kids are all out at noon, so we would have plenty of good afternoon light remaining for the photos.
We met at the Botanical Gardens around 2PM, and I was very please to see that though it was quite sunny and bright, the sun angle was such that we should be able to take advantage of it to create some nice backlit photos, using only natural light.  I always have a flash with me for those times when fill lighting is necessary, but for this session I never even needed to turn it on.
Colin is a senior at Bellevue High School, which is the same school that I attended some years ago, and where I still work every spring as an assistant track coach.  Colin knew quite a few of the kids that I coach, and I enjoyed talking with him about the school and how it had changed over the years.
When I asked Colin about his plans for after he graduates, I got an answer I have never heard before from any of the dozens of high-school seniors who I have photographed.  Colin wants to join the Merchant Marine, which I have to say sounds like a rather cool idea.  He explained some of the requirements for joining the Merchant Marine, of which I was pretty much completely ignorant.  There are apparently several Maritime Academies in the US, all located near the water (for obvious reasons) and Seattle is one of the cities with one of the Academies.  But Colin wasn't sure whether he would want to stay local or go away for school, with some of the possibilities being in California, Florida and Maryland.
It was a very enjoyable session and we got a lot of good photos.  Here is a small sample of our shoot, I hope you like them!