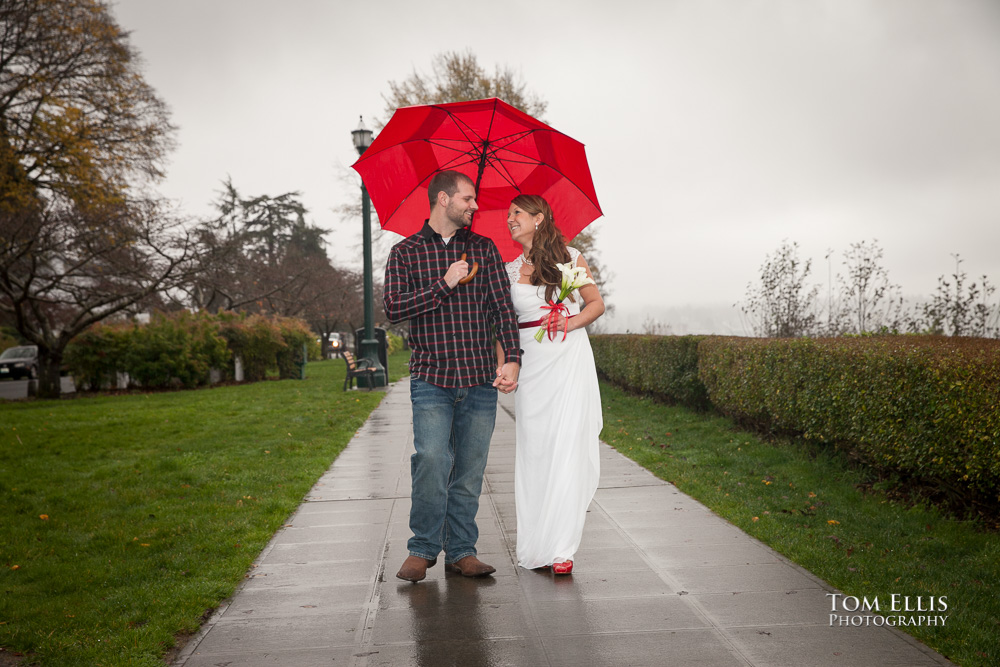 Erica and Paige get married at Grand Avenue Park
I was contacted by Erica in early November, wondering if I was available for a small Monday wedding later that month.  She and her long-time boyfriend Paige were planning a small elopement style wedding and were hoping that I could be their photographer.  I love shooting small ceremonies and since I had the date open I enthusiastically agreed to photograph the celebration.
Erica was planning to have the ceremony at Grand Avenue Park in Everett, a park with a great look out over the Naval base to Puget Sound and the Olympic Mountains.  Because the wedding was planned to be on November 28, I discussed the timing with Erica so we would be sure to still have daylight for the ceremony and photos.  On a cloudy day, it can be quite dark by 4PM so an earlier start time was important.  We finally decided that a 3PM ceremony should work well, and that we would do some pre-ceremony photos at 2:30.
As it turned out we actually had fairly cooperative weather.  Certainly not a sunny day, and it even spit on us a bit during the ceremony, but for late November it was pretty decent conditions.  The ceremony was held at the Compass Rose in the park, and Erica and Paige had a crowd of ~20 people in attendance, including their son and daughter.  Just before the ceremony it starting raining lightly, so the ceremony was conducted with pretty much everyone (including the bride and groom) under umbrellas.  But no one cared about the rain.  Everyone was there to support Paige and Erica and the weather was not an issue.
After the ceremony the sun broke through the clouds and we were able to get some dramatic silhouette photos against the almost-setting sun.  All in all we really lucked out for a ceremony this late in the year, once again it seems the "wedding gods" were smiling on us!