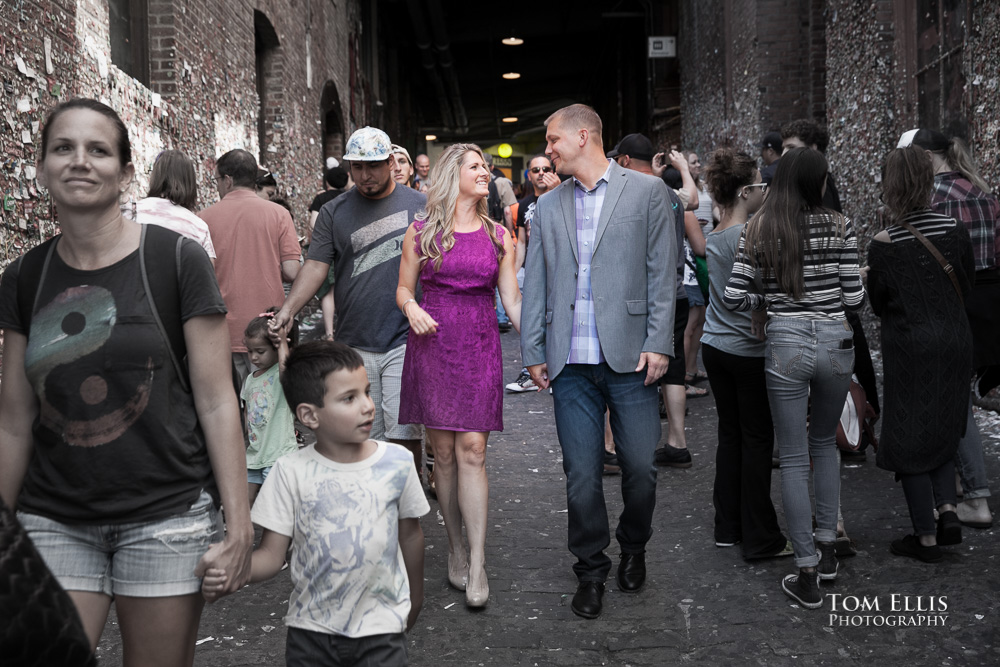 Seattle engagement photos at Pike Place and Alki Point
A couple of weeks ago I met up with Amy and Joey for their engagement photo session.  Amy and Joey are getting married at the Lake Union Cafe on New Year's Eve, and they knew that the odds that we will be able to get many outdoor photos then is slim at best (but we're sure going to try!!).  So we discussed some possibilities in Seattle and they decided that the two places they wanted to do photos the most were Pike Place Market and Alki Point.  I am a big fan of both locations, and enthusiastically agreed with their choices.
Pike Place Market
We started by meeting at Pike Place Market at 4PM on a Sunday afternoon, which can be a little crazy.  Because the market was very crowded when we arrived, I suggested that we drop down to the waterfront first, take some photos there, then move back up to the market when the crowd had thinned a bit.
This strategy proved to work very well.  We got a bunch of great photos along the waterfront and under the viaduct, then moved back up to the market and had far fewer people to deal with as we got a good selection of photos there as well.
Alki Point
Next we headed to Alki Point.  We were in separate cars, and planned to meet at Salty's.  It was a pretty warm day, and I was really thirsty so once I got onto Alki I stopped at a 7-11 to grab a drink.  As I walked into the store, there was Joey, also buying drinks for himself and Amy!  We laughed and headed down the road to Salty's.  Once we both located parking (not the easiest thing to do on Alki on a nice summer Sunday!), we walked along the beach near Salty's taking photos.  By this time the sun had dropped fairly low in the sky, and I was able to get some nice backlit photos of Amy and Joey as well as a bunch of fun shots with the Seattle skyline as the backdrop.
We didn't stay until sunset, but we still got a lot of good photos.  Here is a selection from the day, I hope that you will enjoy them and leave some comments!