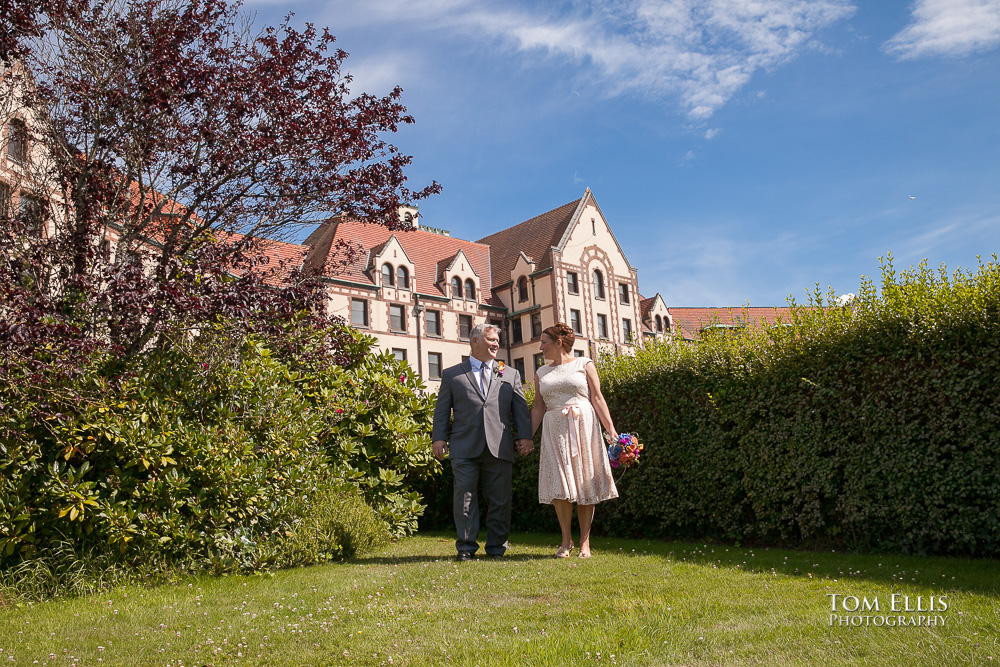 Wedding at the Landmark Convention Center
Tom and Julie were married in an intimate elopement wedding ceremony at the Landmark Convention Center in Des Moines, on a gorgeous sunny August afternoon.  Julie and Tom both live and work in the Des Moines area, and the Landmark Center is simply one of the coolest buildings in the entire Seattle area.  The building is now closed and is up for sale, but the grounds outside the building made a wonderful location for the wedding ceremony, as well as a nice place to take some fun photos.
We met at the building about 30 minutes before the planned ceremony start time so we could walk the grounds and get some pictures.  This is a truly huge facility.  The Center building is an old Masonic lodge and is 130,000 sq ft, and the grounds are 27 acres in size.  Though not as well kept as it once was, it is still a beautiful place.  I only wish the pond and fountain were still operational, that would have made for some great photos.
After exploring the grounds and getting a lot of pictures we were met by the officiant.  We picked out a nice spot and the ceremony was held.  Because it was such a small group I was needed to act as one of the witnesses on the marriage certificate, which is always kind of fun.
Following are a few photos from the day, I hope you enjoy them.