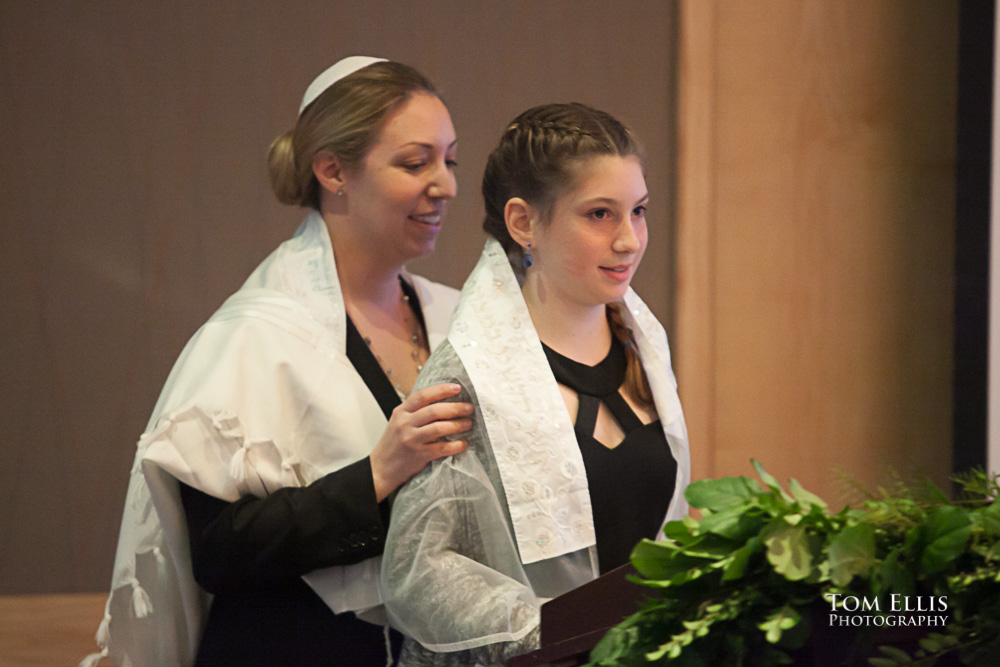 Madeline's Bat Mitzvah at the Seattle Four Seasons Hotel
Just before Thanksgiving I had the good fortune to be the photographer at the Bat Mitzvah for Madeline Ruhoy, held at the Four Seasons Hotel in Seattle.  Mitzvahs are always a lot of fun to photograph, and this was no exception.  I have photographed dozens of Mitzvahs; some are held in temples where no photography is allowed during the ceremony, others in temples the DO allow photos during the ceremony, and still others at a non-religious venue.  For obvious reasons I prefer the latter two possibilities!  The Four Seasons is a beautiful hotel and the two rooms used for the ceremony and reception were fantastic.
Mitzvah ceremonies are always very interesting to photograph.  Finding a way to get good shooting angles is critical, especially in a smaller room.  Because this Mitzvah was held in a room at a hotel it gave me somewhat limited shooting angles to capture the best shots without getting in the way of the guests.  But that just makes the job more fun!
Rachel has a beautiful singing voice, and did a wonderful job as she went through the Mitzvah ceremony.  My favorite part was when the lights were turned down low for the lighting of candles, which made for some very cool photo possibilities.  This is not something that typically happens at a Mitzvah held in a temple, so I tried to take advantage as much as I could.
After the ceremony was completed it was time to party!  Everyone moved a short distance to one of the large ballrooms, which had been set up and decorated for the reception.  DJ Zach Weinberg was there to provide the music.  Zach is the youngest DJ I have ever worked with – he is only 15, but has a very nice set up for both music and lighting, and did a very nice job.
Dinner was served, with separate buffets for the kids and adults (though I noticed several adults sneaking food from the kids buffet – all of the food that I was able to sample was excellent).  A very good magician was there doing an outstanding job of confounding everyone with his sleight of hand, and it was easy to tell where he was all evening by the crowd that formed wherever he was doing his tricks.  Once dinner was finished DJ Zach cranked up the music and there was a lot of dancing until the party finally came to a close.
Here are a few photos from the evening, I hope you like them!