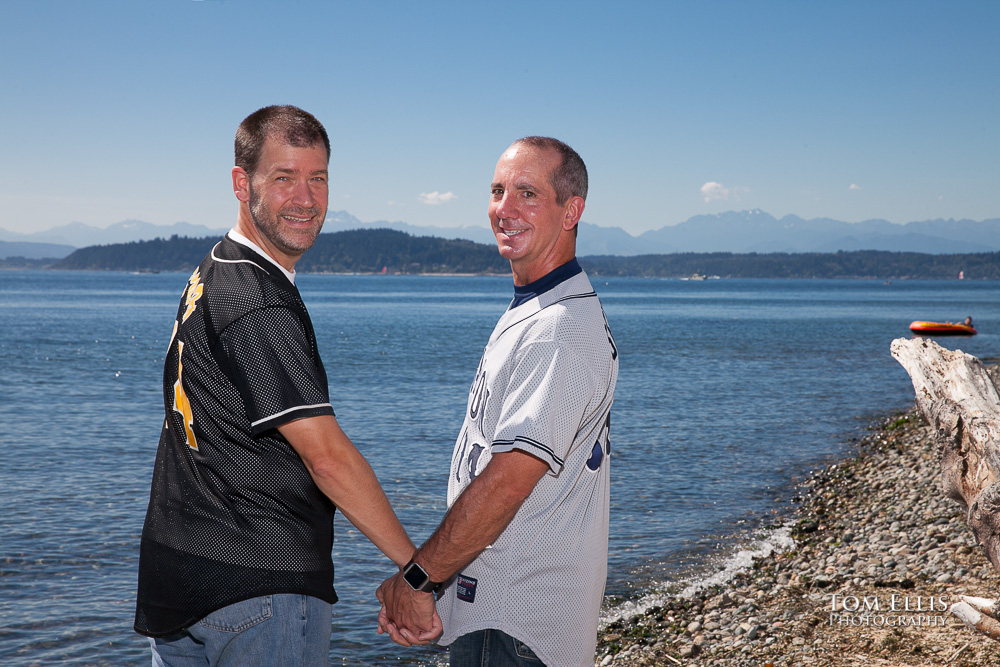 Seattle Engagement Photos – Doug & Mike at Alki Point
About two weeks ago I met up with Doug and Mike in West Seattle for their engagement photo session.  We were pushing things a bit, since they are getting married over Labor Day weekend, but their schedules this summer had been a bit nuts, so we were just happy to be able to get the photos taken before the wedding.
Photos at Hamilton Overlook
We decided that we would start the session at the Hamilton Overlook, situated on the NE side of Alki Point, with a great view of the Seattle skyline.  I have done many photo sessions at Hamilton Overlook, everything from weddings to high-school senior shoots, and was very happy that Mike and Doug thought that would be a good place to start their session.  We had a good time at Hamilton, spending ~30 minutes there taking photos in various parts of the park.  In addition to great views of Seattle, there is also a large lawn with trees and even a few late summer flowers, so we tried to take advantage of all the available backdrops.
Alki Point photos
Next we made the short drive to another of my favorite spots on Alki Point for photos, just south of the lighthouse on the west side of the Alki Point, looking across at Vashon Island and the Olympic Peninsula.  Great beach access, and rarely many people there to act as unintentional (or not) photo bombers!  And we had weather that was about as perfect as you can get in Seattle, warm but not hot and near cloudless skies.
Doug and Mike are both big sports fans. In fact, one of the reasons we had trouble finding a good time for an engagement session earlier in the summer was they didn't want to miss watching or attending any games!  They had brought a selection of sports jerseys with them to be used during our photo session, so as we walked along the beach they would stop and change jerseys occasionally.  I was quite impressed with their selection of jerseys, though I did note to them that one of them really needed to get a different hockey jersey, both wearing the same jersey was a bit much!  😉
We had a lot of fun with the session, and I am really looking forward to working with the two of them again in just over a week at their wedding, it should be a blast!