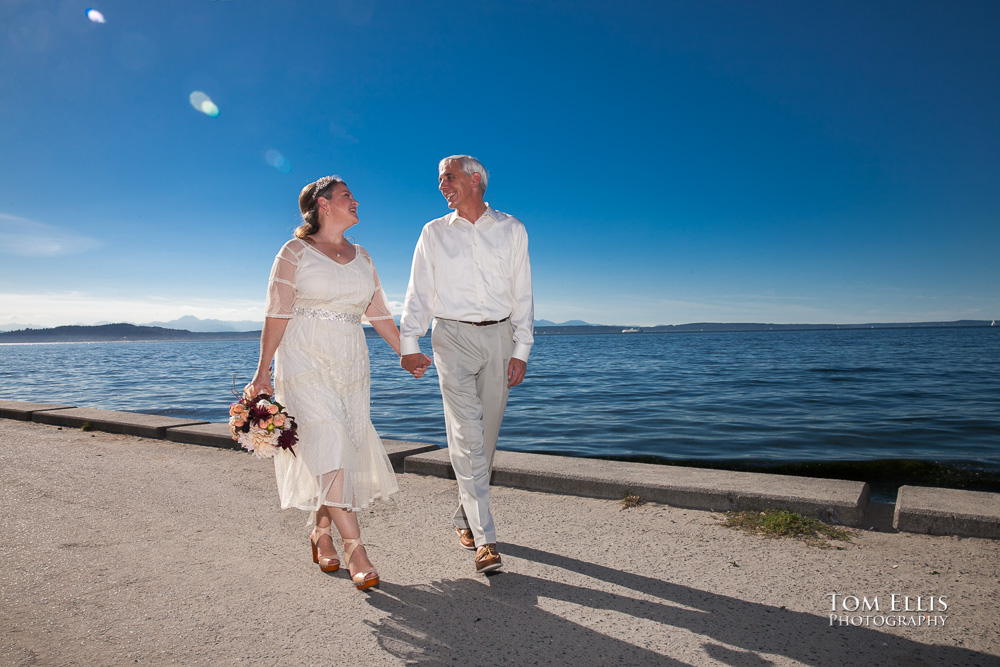 Martina and Chris get married at the Alki Bathhouse
Here are some photos from the wedding of Martina and Chris, held at the Alki Bathhouse in West Seattle in mid-August.  I can't quite believe that this wedding slipped past me and did not make it into the blog until now, but I'm happy to be able to finally get some photos from this event online.
This wedding took place on one of the incredible summer days that we enjoyed for much of August, with temps in the 80s and almost cloudless blue skies.  The Alki Bathhouse is a small and simple but very nice facility located on the NW side of Alki Point.  The original Bathouse was built in 1911, and was a large structure featuring a gym, dressing rooms, a cafe and hot saltwater baths.  The Bathhouse burned in 1955, and the current Bathhouse was built on a small piece of the original foundations.  For anyone who has ever visited Alki on a sunny weekend, you know that finding a place to park can be almost impossible as it is a VERY popular place to go to beat the heat.  knowing this, I arrived early but still had to park at least a quarter mile away from the Bathhouse in order to find a parking place.
Once the bride and groom arrived (they also had trouble finding parking) we organized some photos with family and friends.  This was a rather interesting operation due to the hundreds of unintentional "photo bombers" who kept getting into the photos, but we had a lot of fun with the process.
The ceremony was held inside the Bathhouse, which worked out wonderfully.  The indoor ceremony kept everyone cool in spite of the warm temperature, and also kept us from being potentially mobbed by interested bystanders.  Martina and Chris had opted not to have a traditional wedding party, and the ceremony was very simple, with music provided by a very good duo.
Here are a few photos from the day, I hope you enjoy them.