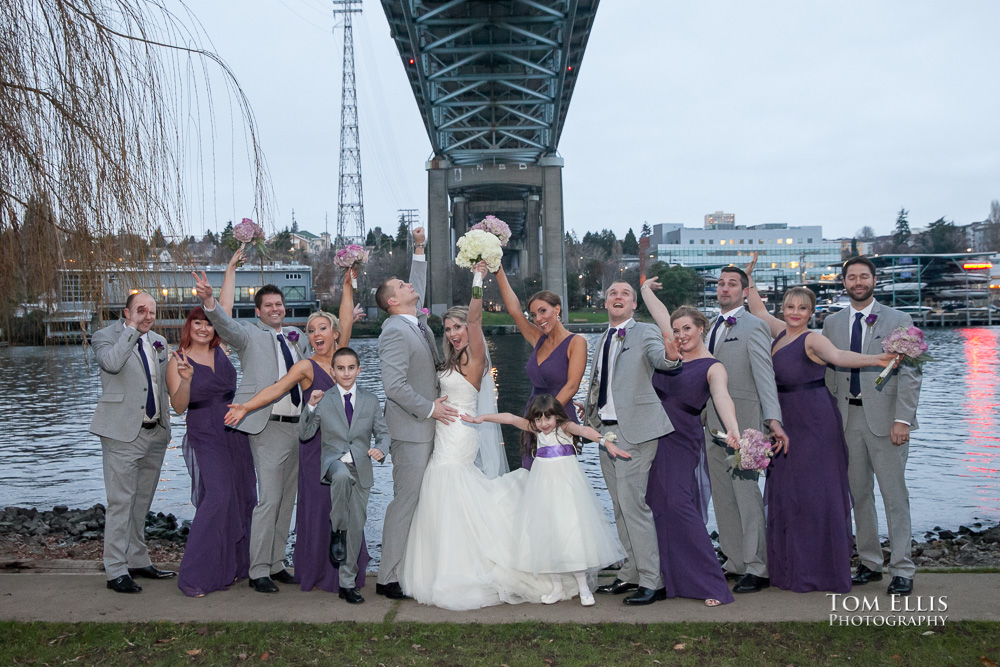 New Year's Eve Wedding – Amy and Joey get married at the Lake Union Cafe
Just a week ago on New Year's Eve, Amy Hornung and Joey Vieceli were married at the Lake Union Cafe in Seattle.  For obvious reasons, this was my final wedding shoot of 2016, and I have to say that it was also one of the most enjoyable.  I first met Amy and Joey last summer when they booked me for their wedding.  We had a really fun day together in late July when we spent several hours together for their engagement photo session.  I could tell right away that this was going to be a really fun couple to work with, and if anything I underestimated how great they were to work with.
The wedding photo session started New Year's Eve in the early afternoon at the Suite Isabella in the Hotel Decca, where I met up with Amy and her bridesmaids.  The weather gods had decided to be good to us; even though the forecast had been for rain and possibly even snow, it was quite bright and dry if not actually sunny.
When I got to the hotel the ladies were still busy with hair and makeup, so I just hung out and snapped away at whatever looked interesting.  I was very happy to discover that Amy had even turned the TV on to the UW vs. Alabama football playoff game, though I was too busy to pay much attention to the game.  Lots of photos as the ladies got ready, you'll see a few of them below.
Then it was time to head for the Lake Union Cafe to meet up with Joey and the groomsmen.  I drove over in my own car while the ladies waited for some Ubers.  Joey and the guys arrived shortly after I did, and we managed to get into the Cafe while we waited for Amy and the other ladies to make an appearance.  The bridesmaids arrived soon after, with Amy shortly behind, and I arranged for Joey and Amy to have their "first look" outside the Cafe under the classic neon sign.
Next we were off on a short walk to the ship canal to get a few outdoor photos before it got dark.  We were actually pushing it a bit for the available light and it getting pretty cold, but the group was willing and I was happy for the opportunity to get a few outdoor photos of not only Amy and Joey, but the entire wedding party.  There is a small public space under the freeway bridge where we were able to get some nice shots before we decided it was just to cold and dark to stay any longer, and made our way back to the Cafe.  When you look at the photos below you'll see a shot of Joey and Amy just before they got back to the Cafe which gives a good idea of how dark it was.
The Cafe has a wonderful bride's room in the basement, and Amy and the bridesmaids headed there to warm up and have a little champagne.  Shortly afterwards the other family members on both Joey and Amy's side arrived, and we moved back upstairs for a few family photos.
And then the big moment had finally arrived – it was time for the wedding ceremony!  The guests were all seated, and the wedding party made their way down the aisle, accompanied by the beautiful music of pianist Jennifer Iovanne Mackend.  Here are the members of the wedding party –
Maid of Honor – Jean Farina
Bridesmaids – Sara Martin, Jodi Hedglin, Amanda Zahler and Chelsea Hoffman
Flower Girl – Sofia Farina-Ledgerwood
Best Man – Tony Vieceli (brother of the groom)
Groomsmen – Rodd Booth, Tyler Kaluza, Jeremy Goodman, Kyle Warner
Ring Bearer – Joseph Farina (better known as Little Joey)
Officiant – Luke Tushar
The ceremony went perfectly, and a short time later Amy and Joey were officially married.
But this was just the start of the evening.  After all, it was New Year's Eve and it was still early!  While the staff turned the room and set up the buffet, the guests moved back to the lobby are for appetizers and drinks while the wedding party retreated to the Bride's room in the basement, where the staff of the Cafe had arranged for there to be plenty of munchies as well as lots to drink.  There is a tradition at the Cafe that newlywed couples sign their names and wedding date to the wall outside the Bride's room.  There have been a LOT of weddings at the Cafe, and finding a place to sign can be a little tricky!  But Amy and Joey found a good spot and added their names to the other newlyweds (photo below, of course!).
When Joey and Amy came back upstairs, they were introduced and then had their first dance as a married couple.  If you have never been to the Cafe, you need to look at the photos of the first dance to get an idea of what a great dance floor they have there.  The lighting provided by the DJ allowed me to do some rather interesting things with different angles of light, combined with the ambient lighting of the Cafe. But much easier for you to just look at the photos of the first dance to see what I mean.
The rest of the evening was a big fantastic party.  A wonderful buffet dinner was served; one thing about the Lake Union Cafe is that you KNOW the food will always be fantastic!  Toasts were given by the Best Man (and groom's brother ) Tony Vieceli and Maid of Honor Jean Farina as well as the bride's father Scott Hornung.
And then it was time for the dancing to begin.  DJ Brien Elliot of Otto-Matic Mobile Music did an outstanding job of keeping the music going and the dance floor full for the next 4+ hours.  This was a hard-core dancing group, and I had a lot of fun working to get shots of the dancers in action.
At 10PM there was a special treat for all of the guests, as Joey and Amy had arranged for a delivery of cheeseburgers from the iconic Dick's restaurant.  If you are a Seattleite who has been here for any length of time then you should be familiar with Dick's, and if you are not then you need to visit Dick's and see what you've been missing!  The burgers were a great late-night snack – yes, I will admit that I happily dug in along with many of the guests.
At midnight there was a celebration to ring in the new year with hats and noisemakers, but sadly not long afterwards it was time to get ready to head for home.  As I have already said, this was a truly fantastic wedding celebration and will certainly rank with the best of the 1000+ weddings I have personally photographed.  Thanks so much for letting me be a part of your wedding day Amy and Joey, it was truly a pleasure and I look forward to working with you next on designing your photo album.
Photos from the day/evening follow below.  I'm afraid that I REALLY got carried away here with the number of pictures I included, but I had a hard time limiting it to this many!   I hope you enjoy the photos, and PLEASE feel free to leave comments.