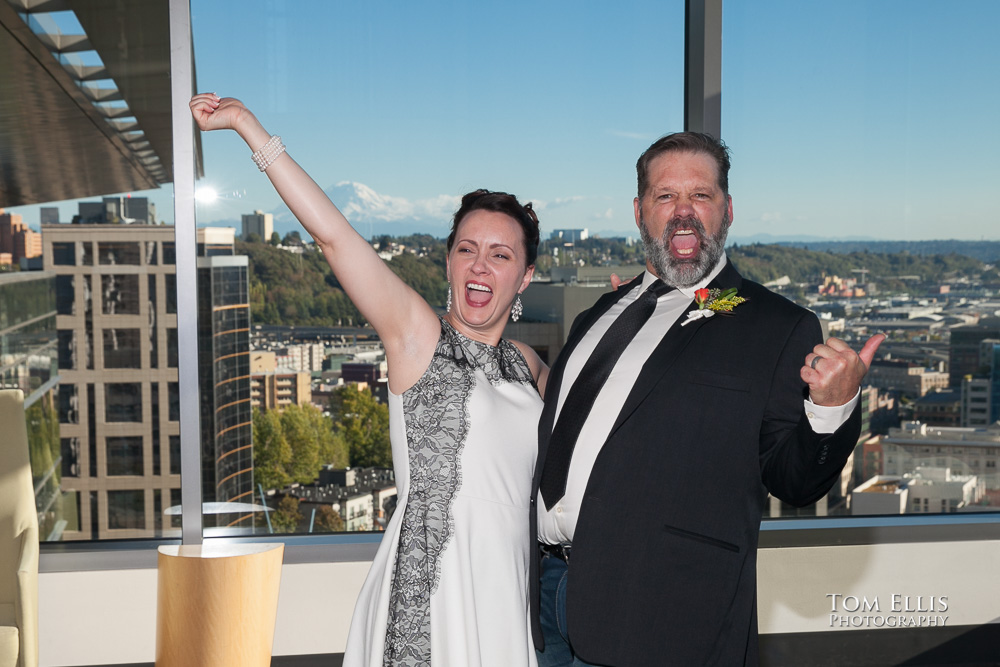 Kate and John get married at the Seattle Municipal Courthouse
Kate and John were married in front of their families and a few close friends at the Seattle Municipal Courthouse.  We met outside the courthouse before the wedding to take some photos on the terraced area in front of the court building, and were treated to a beautiful sunny day.  As summer 2016 went on this year I was starting to think I was living someplace other than Seattle, our weather had just been too good almost the entire summer!
Because John and Kate had a larger than usual contingent for a courthouse wedding they were placed in the Jury Selection Room for their ceremony.  This is a big and bright room with sweeping views of south Seattle, Puget Sound and (on a sunny day like this) Mt Rainier.  After we finished taking photos, we all moved upstairs to the Jury Selection room and the ceremony was held.  Afterwards we did some more family photos in the room, and then I took Kate and John outside to the roof terrace for a few photos with Mt Rainier and the Smith Tower in the background.  Then it was time for John, Kate and their group to head off for a big dinner.
Here are a few shots from the day, I hope you like them.