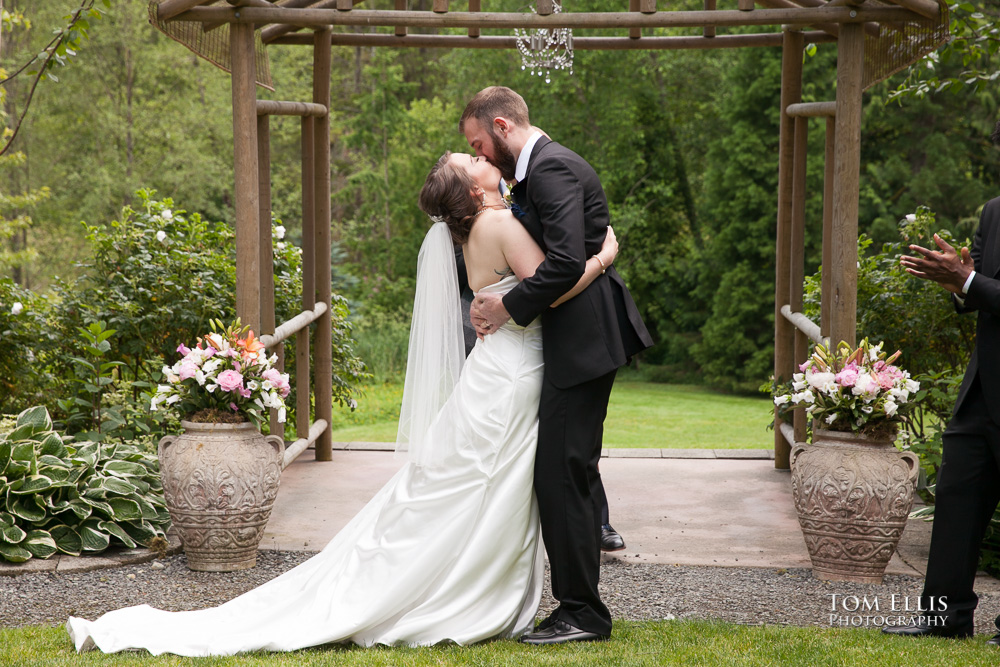 Ashley and Justin get married at Jardin del Sol
Ashley and Justin were married on June 11 at the Jardin del Sol, a beautiful garden venue located in Snohomish.  I had worked with Ashley and Justin for their engagement photo session last fall and had really enjoyed our time together, and had been looking forward to this wedding for some time.
First a little background on how Ashley and Justin met.  Here is what Ashley told me –
We met in Seattle on a 'blind date'.  We initially met in a group setting to try to keep it from being too awkward!  I worked with a girl named Emily, and she was dating a guy named Eddy. Eddy was in the Navy with Justin and they insisted we meet each other.  Justin traveled from Bremerton 3-4 times a week to Seattle so we could see each other.  Justin got out of the Navy a couple months after we met and he stayed in Washington rather than moving back to Iowa with his family. The rest is history!
I will admit that I was a bit nervous about this wedding in the days immediately beforehand, due to the rather poor weather forecast for the day.  Jardin del Sol is a gorgeous venue, but it is primarily an outdoor venue, and while there are tents set up these are usually used for the reception meal and dancing.  It would be possible to have the ceremony inside the larger tent, but it would mean moving a lot of tables and chairs to make it work.
So as the week went by and the consistent forecast for Saturday was for "showers" at best, and actual "rain" by numerous forecasters, I was thinking about all kinds of possible ways to work with uncooperative weather and still give Ashley and Justin great photos of their day.
But as it turned out, the weather/wedding gods decided to smile on Ashley and Justin and while the day was mostly overcast, we only experienced very minor sprinkles.  This was VERY lucky, as much of the Seattle area was hit with serious rainstorms over the course of the day!
We started the day with some dressing room photos, and as soon as everyone was ready I set up a "first look" for Ashley and Justin.  As Justin waited for Ashley to sneak up behind him, I thought he was going to lose it; his emotions were almost beyond his control.  This is one reason that I love to do first-looks instead of the traditional routine of the bride and groom not seeing each other until she comes down the aisle!
We them spent some time walking around the grounds of the venue, which has lots of great places for photos.  The wedding party joined us and we had some fun taking some silly shots of the group, and then it was time to get organized for the ceremony.  This is when we got our only real weather scare of the day, as the clouds spit at us very gently for a few minutes as the guests were being seated.
The wedding party consisted of –
Gina Candela, Christine MacDonald, Danielle Levis, Morayma Wong, and Cassie Justesen (maid of honor)
Alvarus Hooker (best man), Benito Armijo, Ryan Austin, Ralph Wei
The ceremony went perfectly, with officiant Matthew Love presiding.  Matthew did a fantastic job, and in short order we had a brand-new married couple!
Everyone then moved on to the "big tent" and surrounding outdoors area for drinks and snacks, and then for dinner.  Dinner was provided by Famous Dave's Bar-B-Que, and the food was fantastic!  I am going to need to do some experiments to see if I can duplicate their Jalapeño Mac & Cheese.  The good weather continued to hold, and the guests spread around the venue to enjoy the evening and their meals.
Finally it was time for dancing, and the DJ opened the floor.  This was a pretty serious dancing crowd (not always the case at weddings) and the dance floor stayed busy until it was time to wind things down and head home.  DJ Chandra Graham of Getta Groove Entertainment did a marvelous job of keeping everyone dancing.
Here is a selection of photos from the day, from start to finish.  I hope you enjoy them!