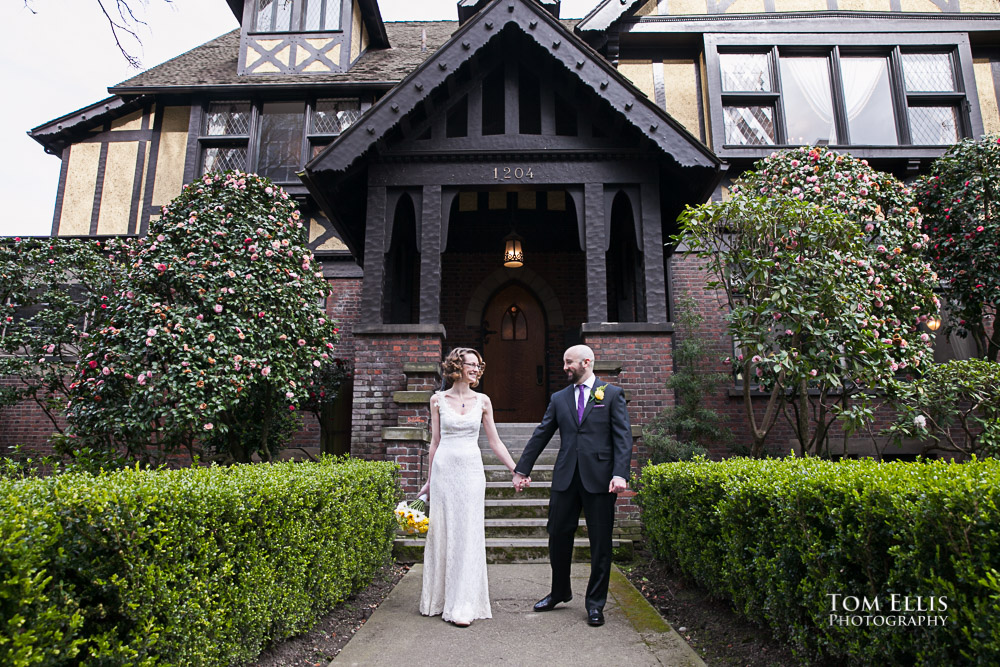 Katrina & Christopher's wedding at the Stimson-Green Mansion
It has taken me way too long to get these photos posted, but I finally have finished editing all of the photos from Katrina and Christopher's wedding at the incredible Stimson-Green Mansion in Seattle on March 24.  I had worked with Katrina and Christopher back in November for their engagement photo session at Snoqualmie Falls.  We had a lot of fun then, and I had been looking forward to this wedding for quite awhile.  Please treat this blog entry as a "work in progress"; There is more info I want to add, but I really wanted to get this up before any more time has passed.
Once again my luck with the weather gods held, and though the forecast had been for a marginal day at best we were pleasantly surprised to arrive at the mansion with warm temperatures and even a bit of sunshine occasionally popping through the cloud cover.  The Stimson-Green Mansion is an amazing home, built in 1901.  Though it would be considered small when compared to the mega-mansions of today, the craftsmanship of construction of the Stimson-Green puts most modern mansions to shame.   I suspect that it would be difficult or even impossible to find craftsmen today who could duplicate some of the interior work that can be found at the Stimson-Green.
We began the day with a "first look" session for Katrina and Christopher in the yard outside the mansion, and then moved right into photos with the couple alone and with their wedding party.  Katrina's bridesmaid was her sister Amanda, and Christopher's "best woman" was Tanya, one of his best friends since middle school.  Katrina's niece Anna was the flower girl.
After finishing the family photos it was time to get ready for the actual ceremony.  Katrina moved upstairs with Amanda, Anna and Katrina's mom Cynthia to a huge bedroom that is now used as the bride's "getting ready" room.  There was some wonderful light coming through the windows, so we spent a little time taking advantage of that to take some photos (some of which you'll see below).  Christopher and Tanya were downstairs in the basement, in the billiards room.  Both locations had been given a wonderful assortment of snacks provided by the caterer (Kaspar's Seattle Catering) so the participants could fuel up before the ceremony.
At last it was time for the main event!  The guests had all arrived and were seated, and the processional began.  The ceremony was held in what must have originally been the living room/great room of the mansion, and it was more than spacious enough to handle all of the guests.  The ceremony was conducted by Dr. Mike Bauer.  Vows and rings were exchanged, and the newly-wed couple made their way down the aisle to the cheers of all assembled.
After a cocktail hour that allowed everyone to sample some great Hors d'oeuvres from Kaspars while the living room was converted into a large dining area, everyone returned to the scene of the ceremony and found their seats.  After a great meal, toasts were offered to Katrina and Christopher, and then everyone moved to the REAL dining room of the mansion, where the couple cut their wedding cake.  This cake was a marvel, created by Honey Crumb Cake Studios.  After the cake was cut, everyone moved back to the great room for a fantastic trivia game contest.
All in all this was a wonderful party, and I want to thank Katrina and Christopher for inviting me to be a part of their day, and trusting me to record this important event.