An engagement photo session is a wonderful way for us to get to know each other better before your wedding. It is an informal and very casual session, and allows people who might consider themself to be "camera-shy" to discover that having their picture taken can actually be a lot of fun! There are many wonderful parks and other public venues in Seattle and the surrounding area that are outstanding places for your engagement session. Gasworks Park, Marymoor Park, Kubota Gardens, Pike Place Market, Seattle Center and Snoqualmie Falls are just a few of the places where I have taken couples for their engagement photos. Maybe you'd like to go back to the location where you first met, or where he (or she) popped the question!
Look over the packages below and see what works best for you. As with my wedding packages, I am happy to customize. And remember, most of my wedding packages INCLUDE a complimentary engagement session.
Even if I am not going to be your wedding photographer, I would still be happy to work with you on your engagement photos. Give me a call and let's talk about what you'd like to do!
---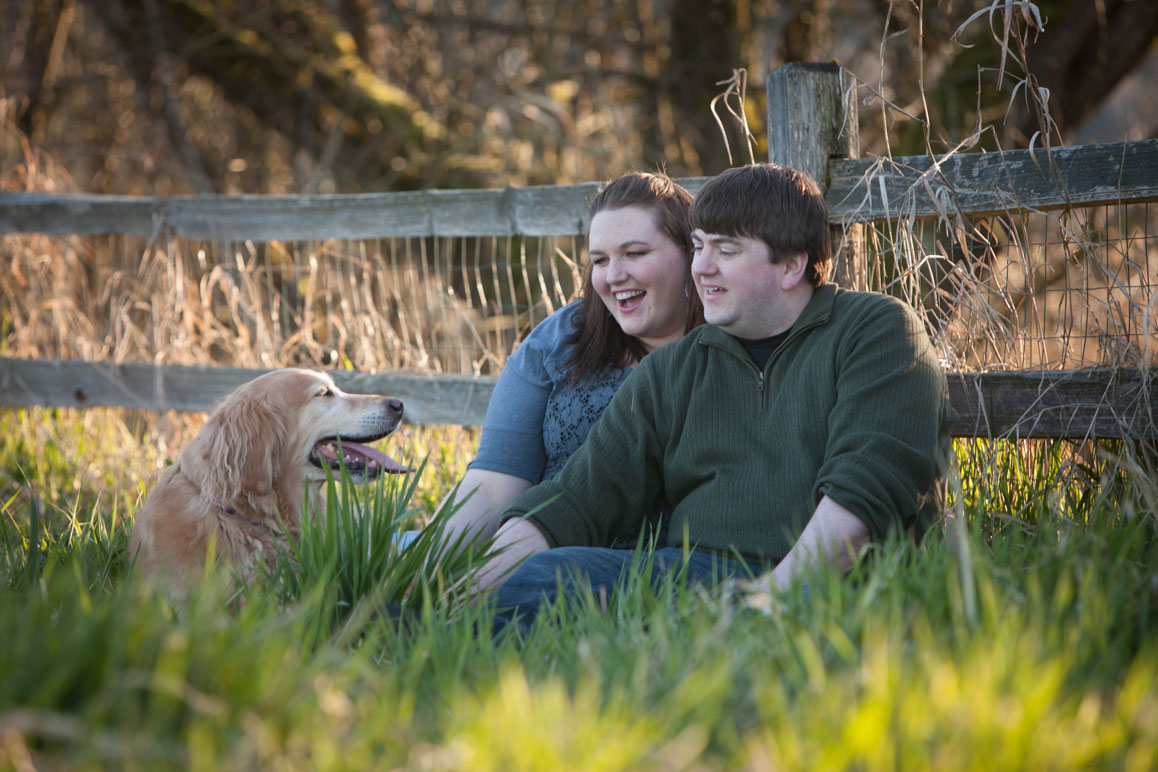 Michelle and Brian with their Golden Retriever during their engagement session at Marymoor Park in Redmond
---
Standard Engagement Package - $350
With my base engagement photo package, we will go to a local park or some other location of your choice. We'll spend an hour or so just wandering and taking photos. I usually shoot anywhere from 60-100 or more photos, which I then place on a website for you to review, or to show to family and friends. You can then pick out 10 photos to be printed as 5x7s, and you will also receive the full-resolution files to the same 10 photos so you can make enlargements or prints for your wedding announcement, etc.
---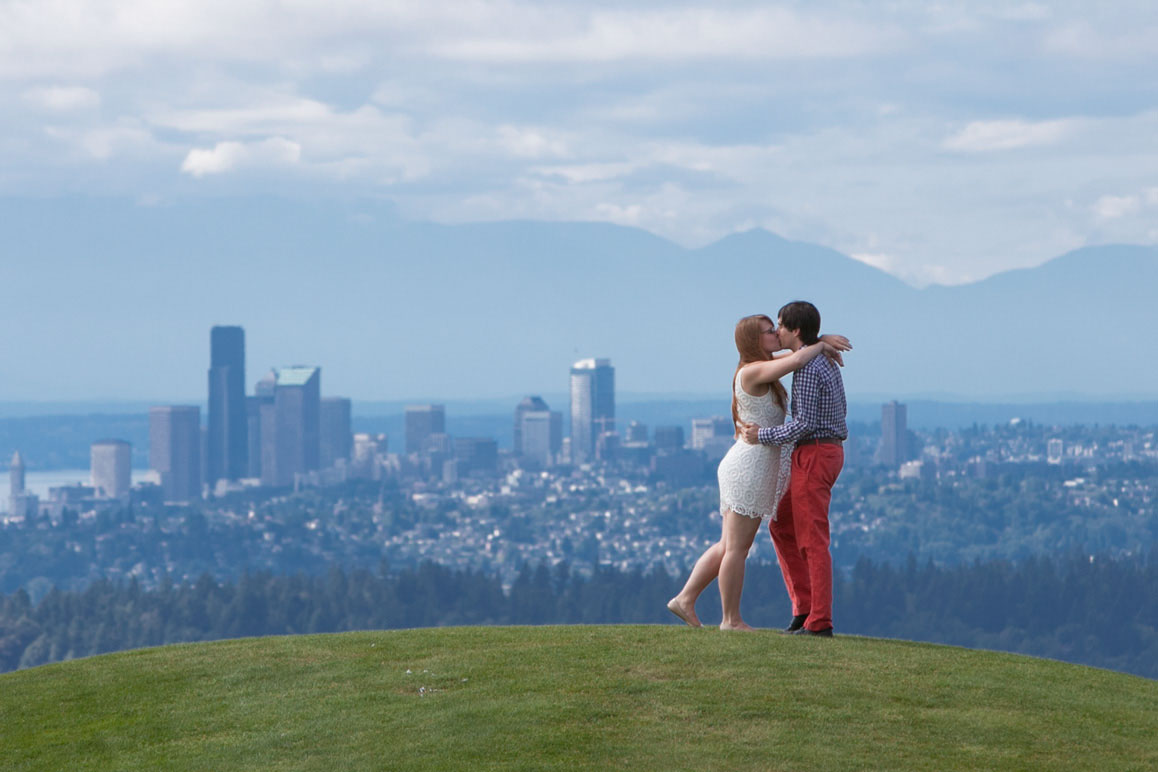 Trevor and Aurora share a kiss during their engagement photo session at Newcastle Golf Club. I was the photographer at Trevor's parents' wedding in 1984. When he and Aurora were married in July 2015 it was the first "second generation" wedding that I have photographed - with more to follow I hope! You can see photos from their wedding at
this page
---
Deluxe Engagement Package - $500
We'll spend somewhere between one and two hours at a location of your choice. I will shoot roughly 120 or more photos in a variety of poses. After I put all of the photos on a website for your review, you can pick 20 photos to be printed as 5x7s. You will also receive the full-resolution files to these 20 photos to use as you choose.
---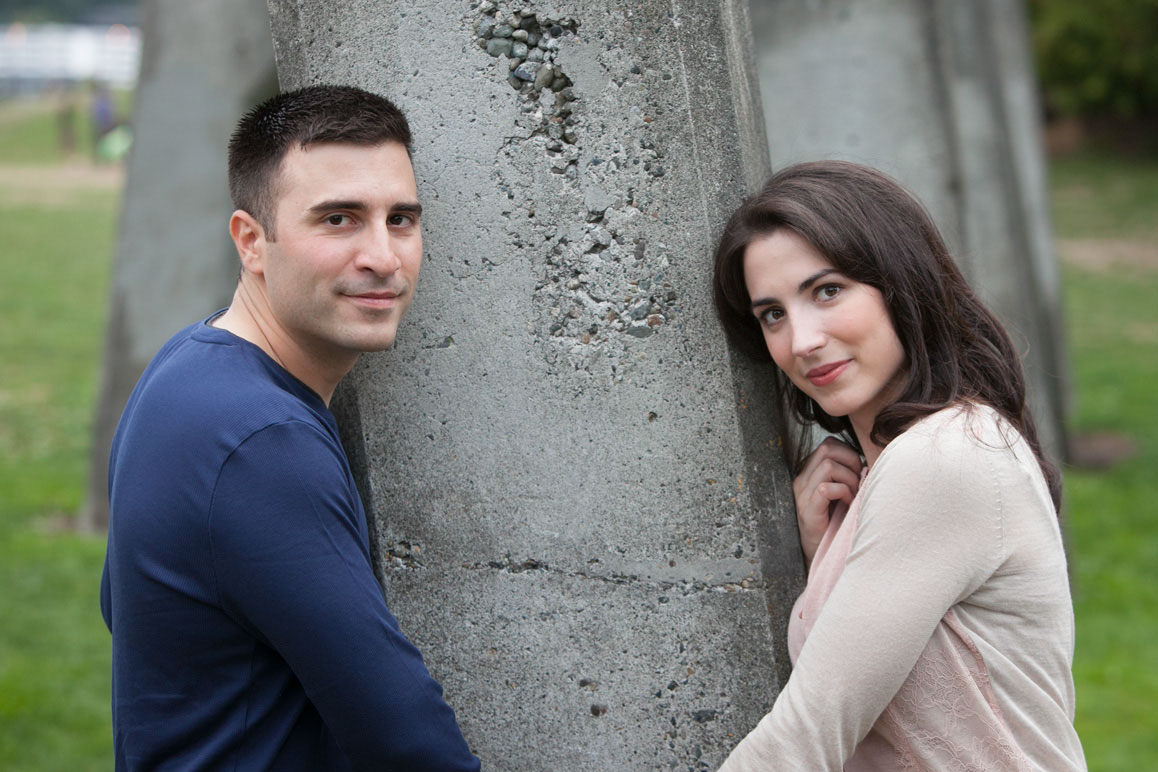 Katie and Sean at Gasworks Park, near the old concrete arches (one of my favorite photo spots!)
---
Ultimate Engagement Package - $900
For the couple who wants ALL of the photos taken during this session, this package is just for you! Multiple locations, up to three hours of time. All photos taken are put on a website for you to review and share, and you receive a 4x6 print of ALL of the photos taken during our session. You will also receive a CD with ALL of the files in full-resolution so you can make reprints, to use with your wedding invitations or announcement, or in any other way you like.
Special Bonus - an 8x10 print of the photo of your choice that you can mat and frame for your guests to sign at the wedding or reception.
---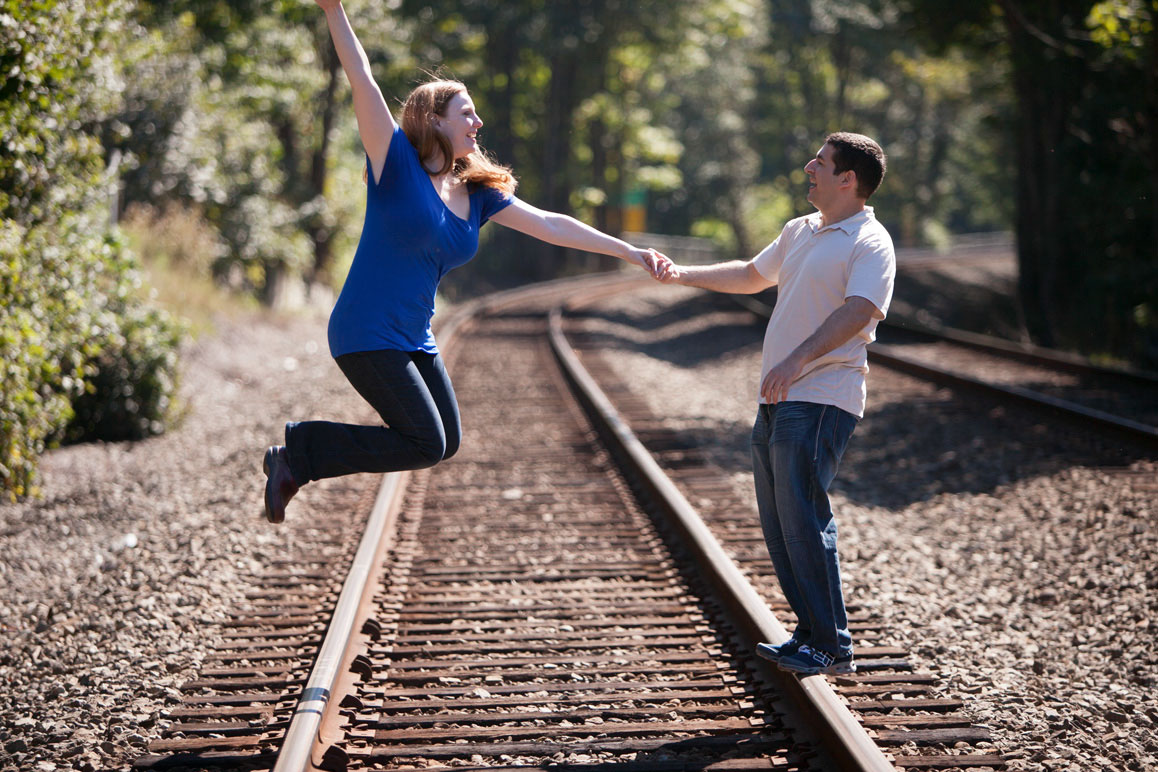 Having fun with Rachel and Brett on the train tracks at Golden Gardens Park - don't worry, we were watching out for trains!
---
Half-Price Engagement Photo Special
Most of my wedding packages include a complimentary engagement photo shoot. However, if you choose a package that does not include engagement photos, you can have your choice of engagement photography packages for half-price! Just cut 50% off the pricing of any of the engagement photo packages on this page.
Travel fees may be added
Washington State sales tax will be added to all prices.
Payment is due in full when photos are taken.
---
Tom Ellis Photography
Copyright Tom Ellis - All Rights Reserved.
Tom Ellis Photography
Copyright Tom Ellis - All Rights Reserved.